DTS-1 Die Sorter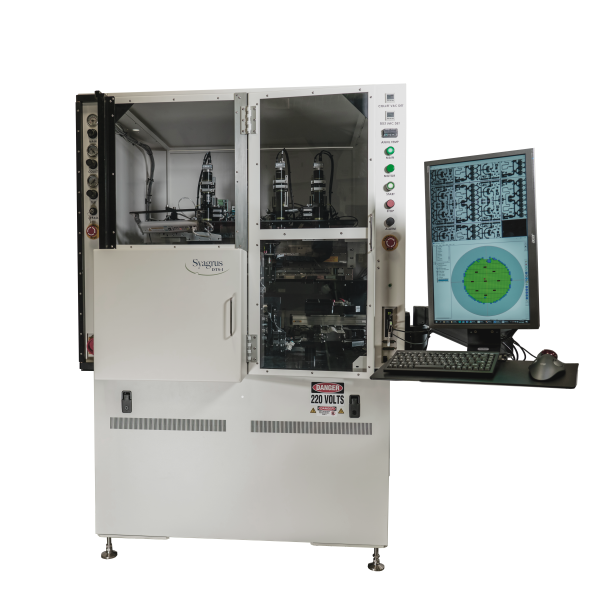 Sorting die from diced wafers by electrical data and visual inspection / AOI criteria and other characteristics is necessary for most wafer packaging operations. The DTS-1 is a fully automated die sorting system to meet both speed and flexibility requirements.
Syagrus Systems manufactures DTS-1 wafer die sorter machines and other die sorting equipment for your wafer packaging applications. We have the expertise and services to produce your desired outcome, whether you need industrial wafer sorting machinery or wafers processed through our service offerings for use in the semiconductor industry.
The Industry's Most Flexible & Accurate Die Sorter 
The DTS-1 wafer sorter is ideal for low- and medium-volume productions. Depending on the product, it can produce up to 6000 DPH throughput with +/- 15µm accuracy. The DTS-1 die machine runs on Windows 10 OS and has a small footprint of 1.2x0.97m. Upgrades are available for older models such as Laurier / Datacon DS4000 and DS4500.
For technical specifications and optional configurations, see the DTS-1 sorter system datasheet.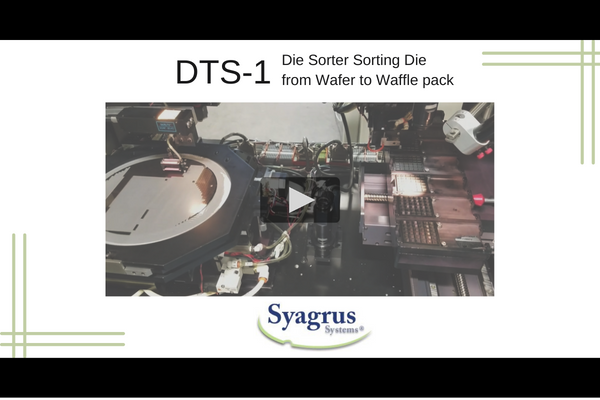 Input Formats
DTS-1 wafer sorting equipment features high flexibility on input. Manually load up to 200mm wafer frames or upgrade to the optional 300mm capabilities. Wafer frame conversion kits are included, and optional hoop ring or grip ring adapter plates are available. Other input formats include:
Die size from 0.15mm up to 45mm sq.
Die thickness as low as 10µm
Diced wafer, waffle pack, gel pack, grip rings, and JEDEC trays
Bowl feeder.
Output Formats
As with input, the output formats of the DTS-1 inspector feature high flexibility. Die sizes range from 0.15mm up to 45mm sq., including die thicknesses as low as 12µm. Other capabilities are available, such as:
Invert or non-invert
Wafers up to 300mm/12"
Waffle pack, gel pack, tape and reel, grip ring, saw frame and JEDEC trays.
The DTS-1 can be outfitted with an optional tape and reel output with a tape width ranging from 8 to 44mm. This option comes with a programmable tape index pitch, level wind supply reel, and an optional reject die removal and replacement system.
DTS-1 Equipment Vision Inspection Capabilites
Ensure quality wafers that function as designed with the DTS-1 wafer sorter. Camera resolutions come standard at 640x480, with optional higher resolutions possible depending on your required defect size. This equipment detects minimum defects sizes of 10µm for 12mm die and searches for a vast range of flaws, including:
Surface defects
Chipping and cracking
Bumps
Foreign material
Laser marking defects.
OCR
Collet inspection
Topside and bottom side inspection capability
The DTS-1 features OCR text or QR code recognition and mapping. 
Contact Us to Learn More About Our Die Sorter Machines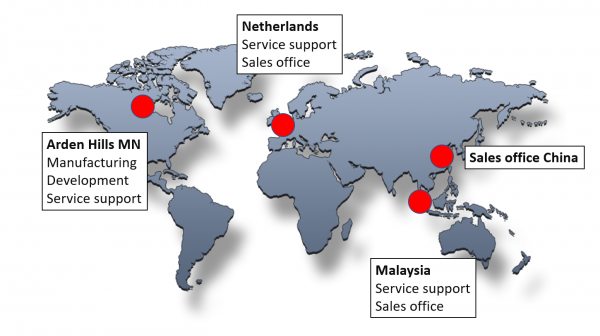 Get started on your next project today with Syagrus Systems. We focus on creating solutions for problems and helping you transition from engineering projects to full production ramp-up. Contact us with questions or request a quote to start your order.