Silicon Wafer Services
Have a Project Coming Up?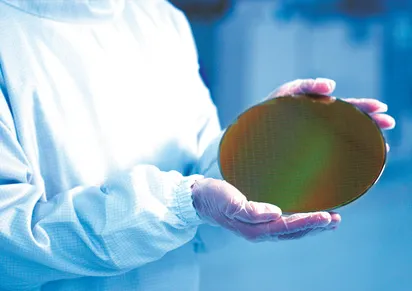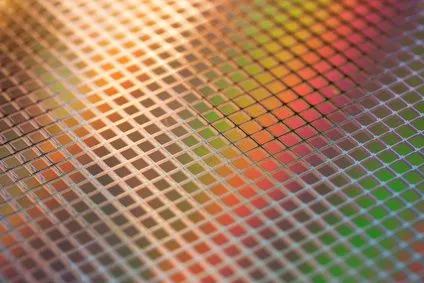 Silicon wafers are thin slices of semiconductor material used to fabricate integrated circuits, microdevices, and more. The manufacturing process for silicon wafers involves multiple highly precise stages to achieve the desired thickness, surface finish, and other specifications. Syagrus Systems is one of the industry's leading post-fab, back-end silicon wafer service providers. Whether you require one or several processes, we have the equipment and expertise to complete your project through fast lead times and worry-free silicon wafer services.
Contact us today to discuss details specific to your project.
Wafer Preparation: Front-End-of-Line (FEOL) Processing
Before back-end wafer services can occur, silicon wafers must undergo front-end-of-line (FEOL) processing. FEOL silicon wafer processing involves the formation of transistors directly in silicon. Individual devices, including transistors, capacitors, resistors, and more, are patterned into the semiconductor by interconnecting the isolated transistors to produce the desired electrical circuit.
Syagrus Systems then steps in to provide consistently flexible back-end silicon wafer services to match your specifications and deliver precision results.
Back-End Silicon Wafer Services
Syagrus Systems is a trusted provider of back-end (also called back-end-of-line or BEOL) silicon wafer processes where individual devices are interconnected with the metallization wiring layer of the wafer. Steps, timeline, and price will vary depending on your selected service, production volume, and other factors.
If you require assistance selecting the best silicon wafer processes for your application, are completing a research project, or have other questions, call 651-683-2220 to speak with a representative directly.
Temporary Silicon Wafer Bonding with 3M Wafer Support System™
The 3M Wafer Support System™ is an innovative silicon wafer process that temporarily supports wafers during thinning and post-thinning operations. A UV-curable adhesive and precision glass substrate maintain the topography of wafer circuit patterns to minimize physical stresses during thinning operations to achieve ultrathin silicon wafers.
Silicon Wafer Backgrinding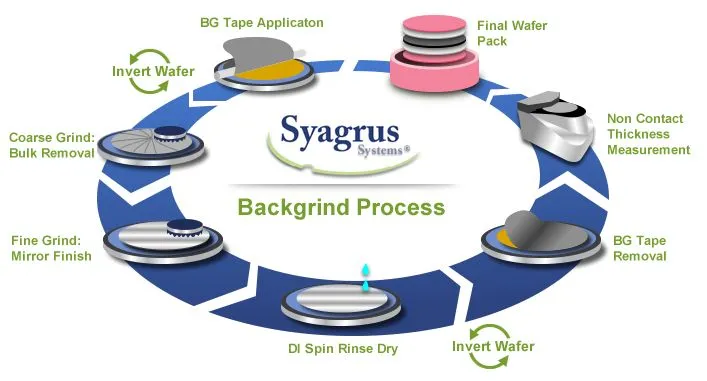 Our wafer thinning and backgrinding processes can achieve wafer target thicknesses of less than 0.050mm (0.002"). We provide custom thinning and backgrind services for silicon wafers in any quantity with same-day service available. Also called "backlap," this process is ideal for creating wafers to meet ultrathin or heat dissipation requirements.
Wafer Polishing
Syagrus Systems' silicon wafer polishing services utilize Chemical Mechanical Planarization (CMP). Capable of removing between 5 and 10 microns of silicon from the backside of wafers, this silicon wafer process removes stresses, prevents warping, and delivers an enhanced semiconductor wafer.
Wafer Dicing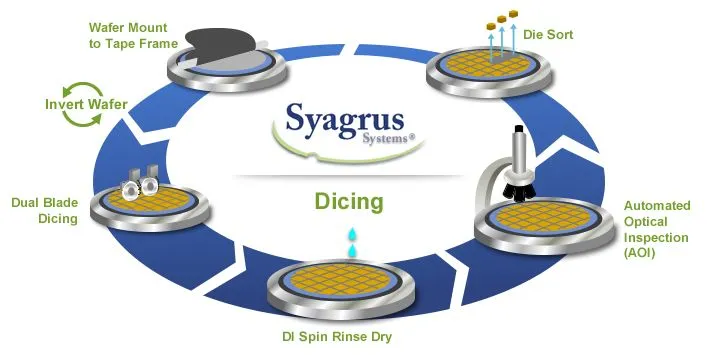 High-precision wafer dicing utilizes a double-pass cutting process to cut semiconductor wafers into small chips and die. We achieve extreme accuracy through our double-pass cutting method for both bumped and non-bumped wafers. Wafer dicing processes are performed in a Class 10K cleanroom environment and have been optimized to produce optimal yields.
Silicon Wafer and Die Visual Inspection Process
To ensure you only receive the best results, we offer both fully automated and manual silicon wafer inspection services for full wafers and sawn wafers on dicing frames.
Die-Sorting Services & Processing Equipment Manufacturing
Silicon die-sorting services include fully automated processes, manual processes, and multi-die binning. Device inverting is available to prepare your project for automated manufacturing. Our advanced silicon wafer die-sorting process can work with die less than 50μm in thickness, wafer diameters from 3" to 12", and much more.
If you prefer to integrate die-sorting services into your facility, Syagrus System manufactures and refurbishes die pick-and-place equipment. Request an equipment quote to learn more.
Surface Mount Device Tape & Reel
Syagrus Systems specializes in Surface Mount Device (SMD) Tape & Reel packaging. Our tape-and-reel service meets EIA standards and can be customized to meet your unique requirements. All reels are 100% inspected prior to shipment.
Additional Back-End Silicon Wafer Manufacturing Capabilities
Syagrus Systems offers additional back-end silicon wafer services to match your application's needs. These include post-metallization annealing on wafers up to 200mm, backside metal deposition to create desired effects, sputtering deposition to apply a thin, protective film.
Quality Post-Fab Silicon Wafer Services & Manufacturing for Any Industry
Fabless semiconductor manufacturers, large corporations, laboratories, and other manufacturing facilities don't always have the capability or machinery to accommodate high-volume silicon wafer production. Syagrus Systems provides complete silicon wafer services for these facilities across a range of sectors, including:
Telecommunications
Medical
Military (including Mil-Spec guidelines such as MIL-STD-883)
Aerospace
Commercial electronics
We have strict quality assurance standards for all processes to ensure control and accuracy, carrying out each service in a safe and clean processing environment. With extensive experience and state-of-the-art silicon wafer processing equipment, we deliver superior results.
Contact Syagrus Systems to Discuss Your Silicon Wafer Processing Needs
Contact us to discuss our post-fab back-end silicon wafer services. Request a quote to begin your process. An expert representative will be in touch as soon as possible.