Silicon Wafer Polishing Services
Have a Wafer Polishing 
Project Coming Up?
Electronic devices seem to get smaller and thinner with each new generation, which means ultra-thin wafers are more in demand than ever. Wafers thinned using conventional wafer grinding methods often have a mirror-like surface. However, hidden to the naked eye is some degree of subsurface damage that is a result of the wafer grind process. Often this subsurface damage is only a few microns, depending upon the diamond grit size of the finish wheel used. To create a stronger and more flexible wafer and die, this surface damage should be removed.
Wafer polishing is a silicon wafer finishing process used to create a stronger, thinner, and more flexible silicon wafers. The wafer polishing process creates thinner wafers than backgrinding alone, and removes stresses and prevents warping that causes wafers to weaken. Post backgrind relief also prepares silicon wafers for dicing and is ideal for electronic applications requiring flexible circuits.
Chemical Mechanical Planarization (CMP) for Post-Backgrind Relief
One standard method removing subsurface damage is Chemical Mechanical Planarization (CMP), often referred to as wafer polishing. Post-backgrind wafer polishing removes between 5 and 10 microns of silicon from the back side of the wafer. The result is a dramatic reduction in the micro-sized peaks and valley micro-damage caused by the backgrinding process.
Syagrus Systems specializes provides this subsurface damage removal polishing and post backgrind relief as part of the company's ultra-thin wafer solution. We offer chemical-mechanical polishing not just for freestanding thinned wafers but can polish wafers while still bonded to a carrier wafer such as the 3M Wafer Support System. This glass carrier wafer stack system is ideal for polishing or etching thin wafers because it fully supports the wafer and minimizes further stress on the wafer during processing, resulting in higher yields. Learn more about the 3M Wafer Support System Process.
Silicon Wafer Polishing Processes
Wafer polishing is both highly effective and safe for removing stresses and surface damage. During the wafer polishing process, polishing pads and diamond liquid slurry are used to polish the wafer. The wafer is held in place by a vacuum carrier such that the backside of the wafer is exposed. The carrier and wafer are slowly brought into contact with a rotating platen, which is covered by a polishing pad. With a controlled downward force, we can carefully remove the damaged layers of the wafer, creating a stronger product for the customer.
When working with thin silicon, keeping the wafer damage-free is a challenge. That's why we recommend chemical mechanical planarization to remove the micro-damage that can result from the backgrind process.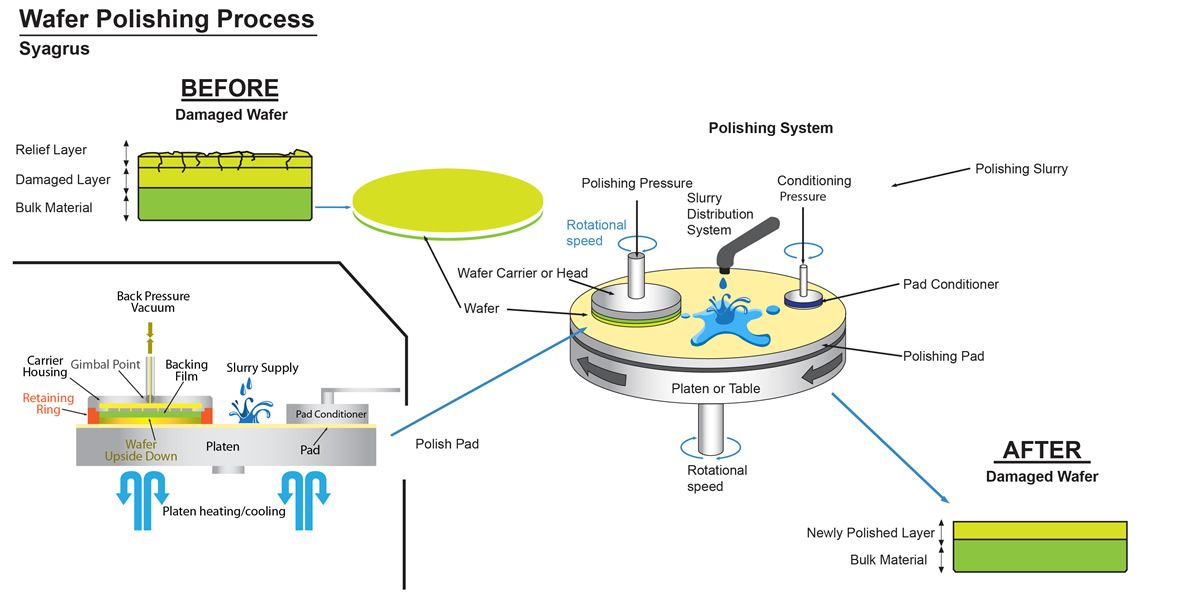 Contact Syagrus Today to Learn More About Our Wafer Polishing Services
We specialize in post-fab processing silicon wafers and semiconductor wafers for a broad range of industries and applications. Contact Syagrus Systems today for more information on our wafer polishing process and other services including Wafer Backgrinding and Wafer Dicing.
Check out other additional wafer services offered by Syagrus