Silicon Wafer Polishing Services
Have a Wafer Polishing 
Project Coming Up?
Electronic devices seem to get smaller and thinner with each new generation, which means ultra-thin wafers are more in demand than ever. Wafers thinned using conventional wafer grinding methods often have a mirror-like surface. However, hidden to the naked eye is subsurface damage caused by wafer backgrinding. Even though the damage is typically only a few microns, it can affect a semiconductor wafer's strength and flexibility.
Semiconductor wafer polishing, also referred to as Chemical Mechanical Polishing (CMP), removes this subsurface damage to create thinner and more flexible silicon wafers. Post-backgrind wafer polishing removes between 5 and 10 microns of silicon from the backside of the wafer and dramatically reduces the micro-sized peaks and valley micro-damage caused by processes. Polishing also removes stresses and prevents warping that weakens wafers, giving you a stronger semiconductor wafer.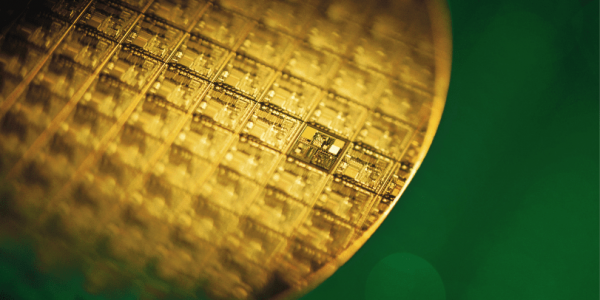 Our Post-Backgrind Wafer Polishing Process Achieves Higher Yields
Syagrus Systems specializes in wafer polishing and post backgrind relief as part of our wafer thinning solutions. Our semiconductor wafer polishing process prepares your wafers for dicing and is ideal for electronic applications requiring flexible circuits. Wafer stack support systems allow us to polish and etch ultra-thin wafers without causing stress or damage, helping you achieve higher yields. We can also work with you to accommodate your specific surface roughness requirements.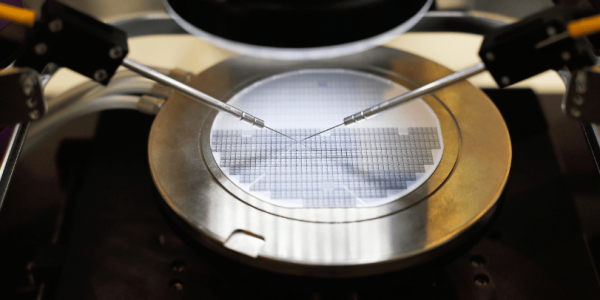 Chemical mechanical polishing services we provide include:
Free-standing silicon wafer, fused silica wafer, and glass wafer polishing
Bonded wafer stack polishing using the 3M Wafer Support System
Effective and Safe Semiconductor Polishing Processes
Wafer polishing is both highly effective and safe for removing stresses and surface damage. Our process involves using polishing pads and diamond liquid slurry to polish the wafer. A vacuum carrier holds the wafer in place while leaving the backside of the wafer exposed. The carrier and wafer are slowly brought into contact with a rotating platen covered with a polishing pad. With a controlled downward force, we carefully remove the damaged wafer layers, creating a stronger product.
Keeping the wafer damage-free is a challenge, especially when working with thin silicon. Our chemical mechanical planarization processes remove surface roughness safely without damaging your semiconductor wafers.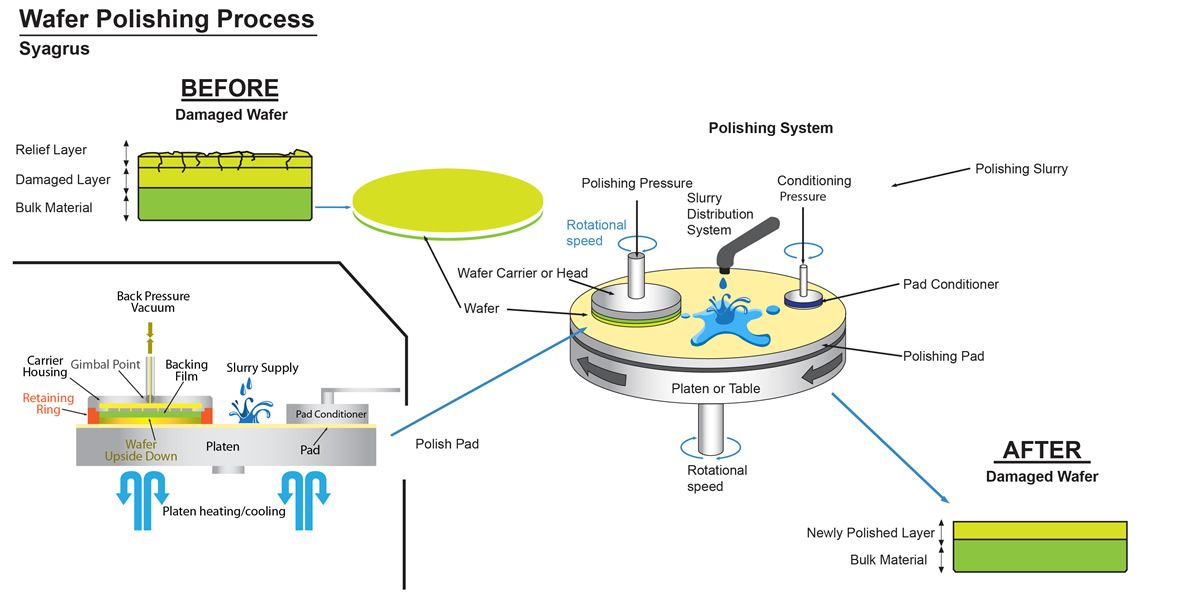 Contact Syagrus Today to Learn More About Our Wafer Polishing Services
Syagrus Systems offers full-service solutions for semiconductor wafer production, from bonding and backgrinding to dicing, polishing, and inspection. We handle every stage of semiconductor manufacturing in-house and have a reputation for exceptional quality standards and customer service. 
Contact us  for more information about silicon wafer polishing and other specialized services for semiconductor manufacturing.
Check out other additional wafer services offered by Syagrus