Wafer Dicing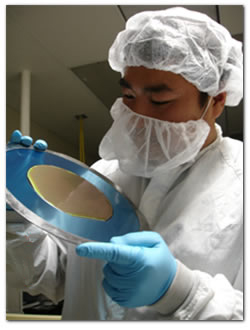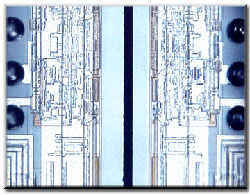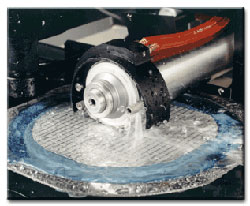 Fully Automated Silicon Wafer and Semiconductor Wafer Dicing Capabilities
Syagrus Systems' fully automated silicon wafer and semiconductor wafer dicing capabilities consistently meet or exceed our customers' high standards. We know that a good wafer dicing or wafer cutting process sets the pace for all remaining post fab operations. With a large variety of dicing saw blades and dicing tape at our disposal, we can optimize the wafer dicing process to achieve optimal yields for your critical devices.
High Precision Wafer Dicing
To provide the highest quality and most accurate silicon wafer dicing, double pass cutting is Syagrus Systems' standard practice. We can dice silicon and semiconductor wafers as thin as 0.020mm (0.0008") and up to 200mm (8.0") in diameter with exceptional precision and perfect repeatability. We can also perform wafer dicing operations on previously singulated multi-die reticles and partial wafers.
To ensure that your wafer is at peak optimization following the wafer dicing process, we offer high magnification, fully-automated, die visual inspection. We also offer a range of other post fab processing services for semiconductor and silicon wafers.
Thanks to our high wafer dicing standards, many leading military and medical device manufacturers trust us to deliver defect-free die for their automated assembly operations.
We take pride in providing customized silicon wafer dicing services for customers across the United States and all around the world. No job is too big or too small! Our versatile wafer dicing systems give us the flexibility to accommodate multi-die or "pizza mask" wafers, as well as high volume cutting programs.
Contact Syagrus for all your Wafer Dicing Needs
If you're looking for custom wafer dicing service, look no further than Syagrus Systems. Contact us today or request a quote!
Wafer Dicing and Cutting Details
Same day cycle time available
0.25" (6.35mm) to 8" (200mm) flexible wafer dicing workspace capable of sawing multi-die reticles
High precision wafer dicing for singulated devices as small as 0.008" (0.2mm) and wafers as thin as 0.0008" (0.020mm)
Bumped and non-bumped wafer dicing
Large variety of wafer dicing blades and dicing tape available to handle all customer requirements
Return shipment on saw frame or stretch rings, or continue to follow up inspection and die sorting
All wafer dicing performed in Class 10K cleanroom environment
Technical staff available to assist with your engineering and prototype runs, such as multi-die or "pizza mask" wafers
Contact Syagrus today to learn more about our Wafer Dicing Process 
Syagrus Systems provides world-class post fab processing for silicon wafers and semiconductor wafers, with wafer dicing processes that are customizable to your unique needs. Request a quote on wafer dicing and wafer cutting, or contact us for more information.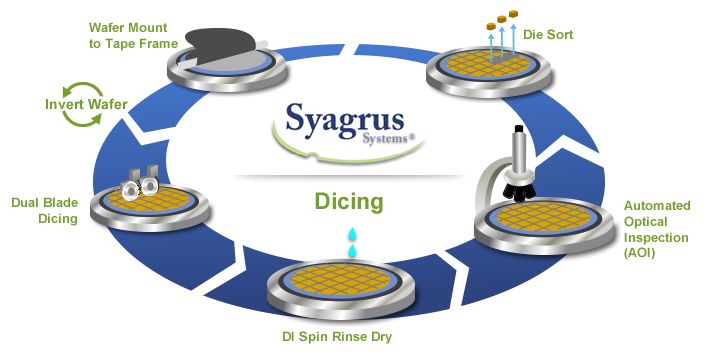 Check out other additional wafer services offered by Syagrus:
Contact Syagrus for more information on Wafer Dicing
Wafer Polishing Request a quote on wafer dicing and wafer cutting, or contact us for more information.