Wafer Bonding Services
Semiconductor manufacturers and other users often need their silicon wafers to be ultrathin. Like anything, however, the thinner the wafers get, the more fragile they become. Bonding silicon wafers to glass using a removable UV adhesive helps reinforce the wafer and protect them against damage during conventional thinning and post-thinning processes.
This process, known as temporary wafer bonding, offers an effective way to minimize stress on silicon wafers during processing. The temporary adhesive does not damage the wafer surface and peels away without leaving any residue. Semiconductor wafer bonding minimizes issues such as warping, cracking, and edge chipping, leading to higher yields, high throughput, and reduced waste.
Silicon Wafer Bonding for Semiconductor Manufacturing
Syagrus Systems utilizes the 3M Wafer Support System for temporary silicon wafer bonding. This bonding method was explicitly designed for semiconductor manufacturing and is compatible with high temperature and high vacuum processes, typical process chemistries, and low-k dielectric materials.
Our team is highly experienced in wafer bonding and other processes for semiconductor and electronics manufacturers. We use top of the line programmable technology and proven methods to consistently achieve thicknesses in the standard range of 50-60 microns (μm). Thinner or thicker wafers can also be created by special request. Once the temporary wafer bonding is applied, we can take your thin wafer to singulated die form.
--- Wafer Bonding Process Information Guide ---
Syagrus has been bonding silicon wafers for our clients for many years. Over that time we've learned that many people are curious about the process of wafer bonding. We've put together an information guide below that describes our processes for our clients. If you have further questions about how we can help you with your wafer bonding project, fill out a contact us form or email us a question directly using the buttons in the top right corner of this page!
How the 3M Wafer Support System Helps Us Achieve Ultra-Thin Wafers
The 3M Wafer Support System is a proven method of making ultrathin wafer manufacturing more reliable and more efficient. This temporary wafer bonding system combines 3M bonding chemistries with state-of-the-art equipment designed specifically for wafer processing.
The key component of the process is a special UV-curable adhesive, formulated specifically for temporary bonding of semiconductor wafers to glass. The 3M adhesive is spun onto the wafer surface and used as a bonding agent between the wafer and a glass carrier. This mounting process is performed under vacuum to ensure that no air bubbles or other voids are trapped between the wafer and the support glass.
The adhesive flows into and supports the topography of the circuit patterns on the front side of the wafer. This creates a more uniform, rigid support surface than using tape and helps minimize stress on the wafer, allowing for wafer thinning to less than 20µm final thickness.
Temporary Wafer Bonding for 3M Wafer Support Systems | Syagrus Systems from Syagrus Systems on Vimeo.
Glass Substrate Support Protects Silicon Wafers During Processing
After wafer thinning, the glass substrate continues to provide support for post-grinding processes such as etch, CMP, or metal deposition. Because the temporary wafer bonding process creates support for the entire face and the edges of the wafer, it results in less warpage, cracking, and edge chipping, and helps promote higher yields.
After wafer bonding and processing, a special laser is used to debond the glass carrier plate. This allows for easy, chemical-free separation using minimal force. No heat, wet chemistry or soaking are required to separate the silicon wafer from the glass substrate. The wafer bond adhesive is then peeled from the wafer.
Light to Heat Conversion (LTHC) Coating Services for Silicon Wafers
Another supplemental service we provide for semiconductor wafer bonding is glass substrate coating. The Light to Heat Conversion (LTHC) layer is applied via spin coating and cured for use with the 3M WSS temporary wafer bonding process. The coating is compatible with standard semiconductor chemistries and helps enable stress-free debonding of adhesives. We verify all glass substrates after coating for proper levels of light transmittal.
How the Silicon Wafer Bonding Process Works
1) Mount (Spin coat UV resin on wafer; vacuum bond to support glass; UV irradiate)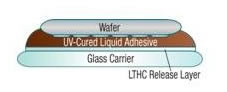 2) Backgrind using conventional grind methods.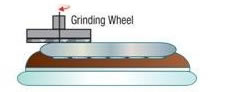 Thinned wafer is fully supported after backgrind operation for safe handling.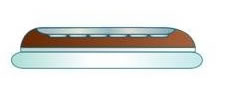 3) Bonded wafer stack is mounted to saw frame using standard wafer mounting systems.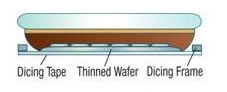 4) Laser Irradiation - The laser debond creates microvoids in the LTHC layer allowing for separation between glass support and wafer.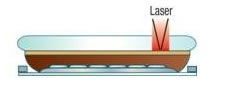 5) Remove Support - After laser debonding, the glass support lifts off easily and is cleaned and recycled for multiple uses.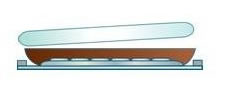 6) Remove Adhesive - Adhesive layer removes easily, leaving minimal to no residue.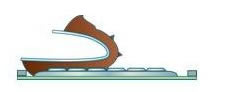 Get Better Results and Higher Yields for Your Wafer Support Project
Syagrus Systems is a trusted name in the semiconductor wafer processing industry. Our silicon wafer services include wafer bonding, wafer polishing, wafer backgrinding, and more. Request a quote on temporary wafer bonding or send us a message to discuss your wafer processing needs.
Additional Services for Silicon Wafer Production
We provide highly efficient, highly effective services that deliver exceptional results every time. Contact us for these services and more: