New Wafer Grinder
Syagrus Systems Boosts Production Capacity with New Equipment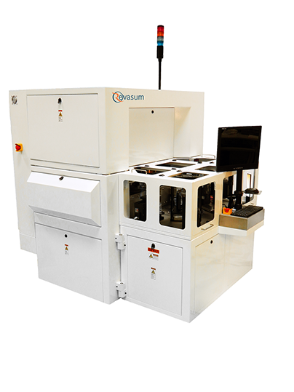 29 May 2014 - Syagrus Systems' recent addition of two new pieces of key processing equipment, a Strasbaugh wafer grinder and an MTI metrology system, give the silicon wafer processing company increased backgrinding capacity and even more accurate measurement capabilities.
Syagrus Systems is a leader in post-fabrication, "back end" processing for silicon wafers. The company provides wafer backgrinding, wafer dicing and inspection, and other services for the semiconductor and electronics components manufacturing industries. Based in Arden Hills, Minnesota, in the Twin Cities metro area, Syagrus serves some of the world's leading semiconductor manufacturers and has long been at the forefront of wafer processing solutions.
Strasbaugh Model 7AF 200 mm
The company's new Strasbaugh Model 7AF 200 mm wafer grinder gives them additional capacity for their wafer backgrinding and state of the art temporary wafer bonding and thinning processes. The Model 7AF uses ultrafine finishing wheels to create superior finishes, which in turn provide increased strength for ultrathin wafers. The company is currently grinding wafers to target thicknesses less than 50 microns. By adding another fully automatic wafer grinding machine to their facility, Syagrus Systems offers even greater throughput for their constantly growing business, enabling them to better meet the high quantity demands of the semiconductor industry.
New MTI Proforma 200SA
Syagrus' new MTI Proforma 200SA semi-automated wafer measurement system provides highly accurate measurements of the TTV, or total thickness variance-the difference between the maximum and minimum values of thickness-of their clients' wafers following the grinding process. The Proforma 200SA can perform full wafer scans or use a fixed, user-defined point scan pattern option for thickness measurements at the sub-micron level. This helps Syagrus Systems ensure the quality, consistency, and precision of their processes, and allows them to provide their customers with complete measurement data sheets as certificates of compliance for their wafer backgrinding.
Contact Syagrus Systems Today
For more information on Syagrus Systems and their silicon wafer processing capabilities send us a RFQ, or please contact us today!